Here are some pics of my scraproom and some of my favorite storage solutions...
This is my ribbon storage... I am quickly out growing it! :) I love ribbon! Under this is my computer and printers but they are ugly... lol!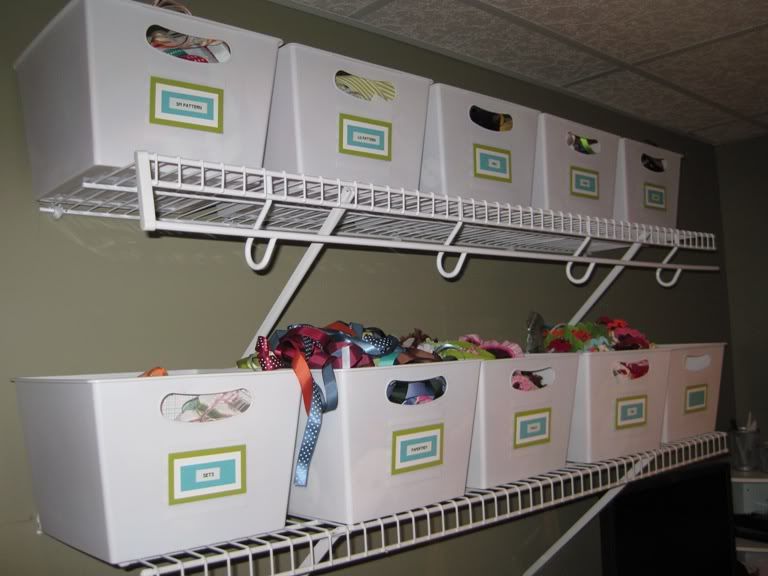 This is my Cricut and Slice area. My copic, pencil and sewing supplies are on the shelves above.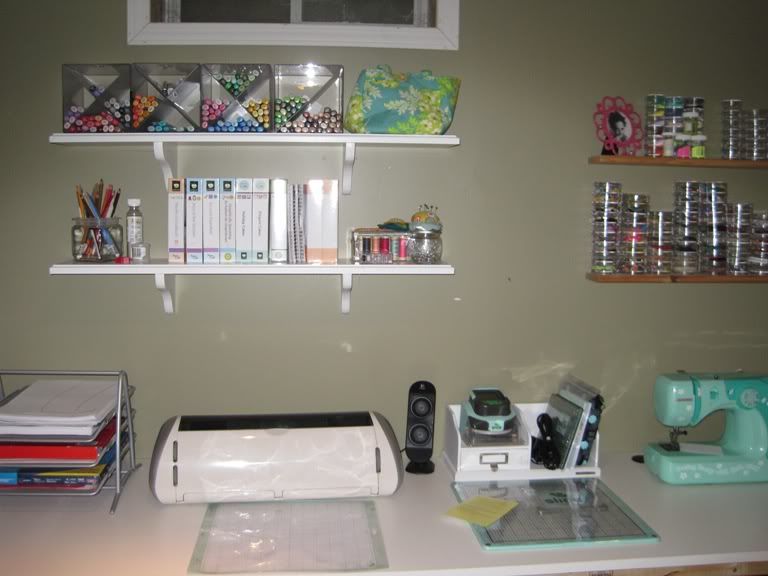 This is my large selection of embellishments, paints, stickles, mists on top and on the counter is my Hello Kitty Janome, neutral cardstock storage and some drawers with my pins, i-top accessories, embroidery thread, etc.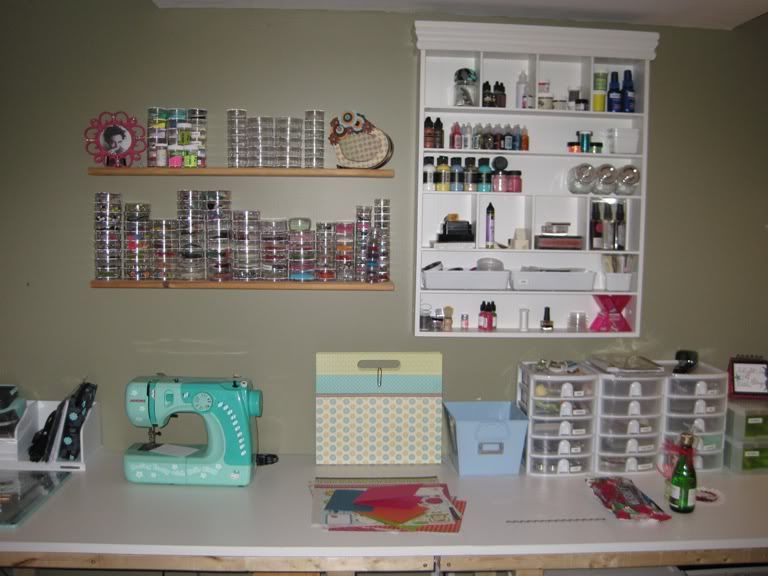 Close ups...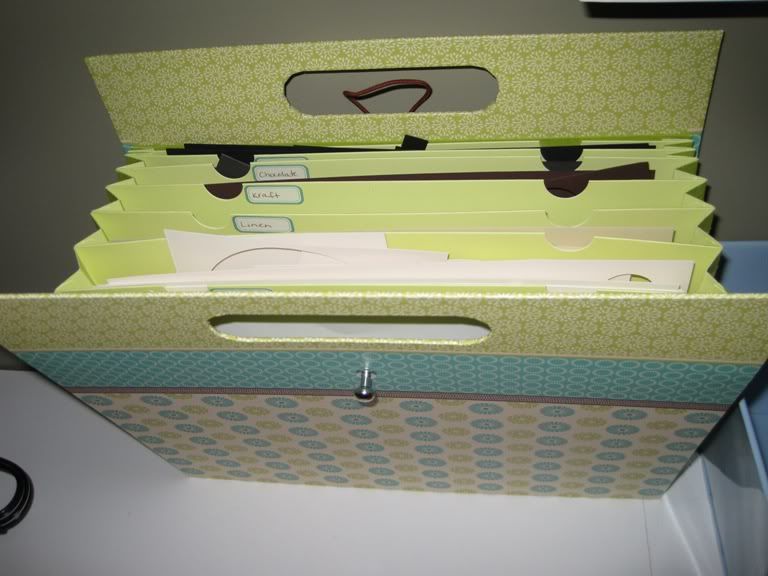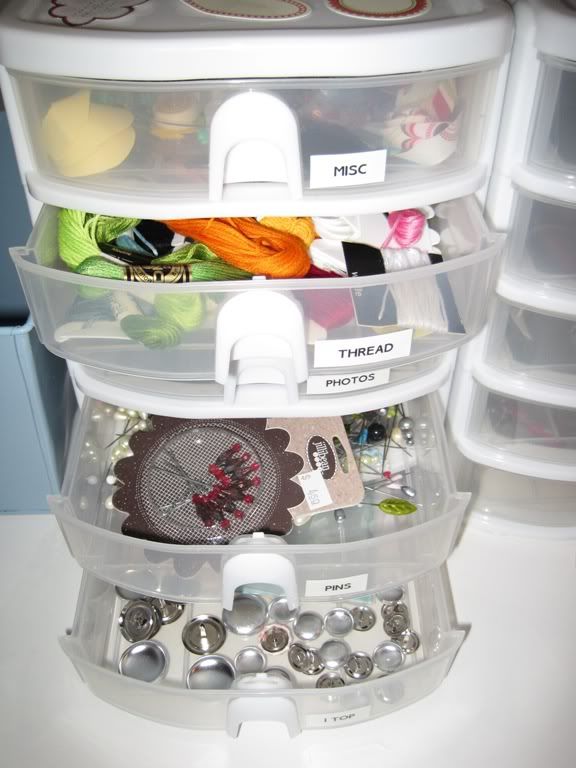 Then next to those is my flower and bling storage.
I use this to store my copic paper, chart, stamped images from swaps and my teaching stuff.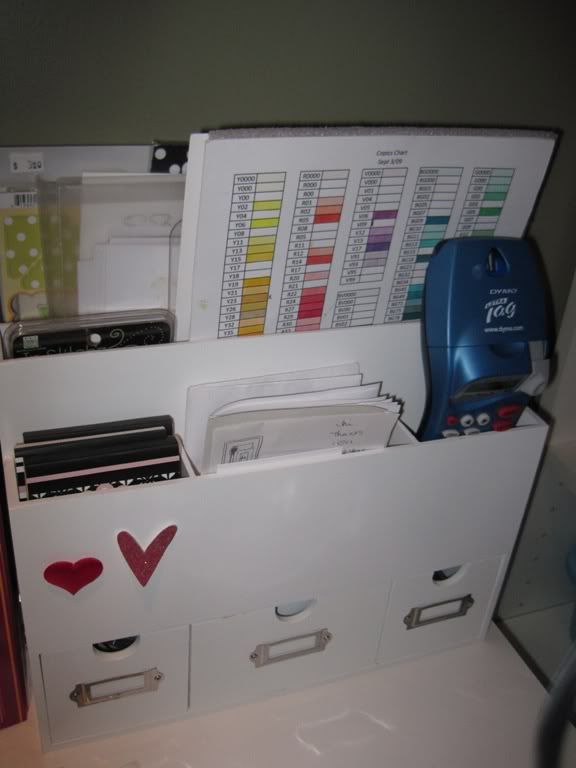 This is my magazine storage...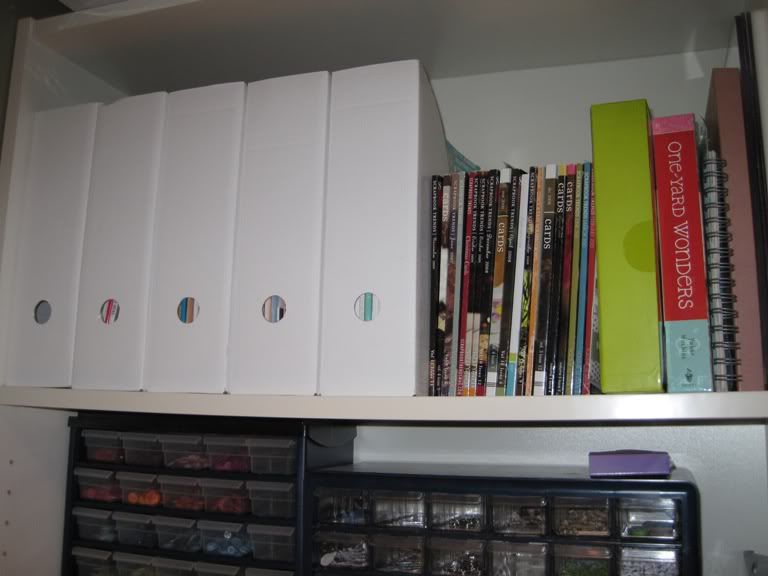 And this is my button storage (left) and some old embellishments (right) that I cannot part with.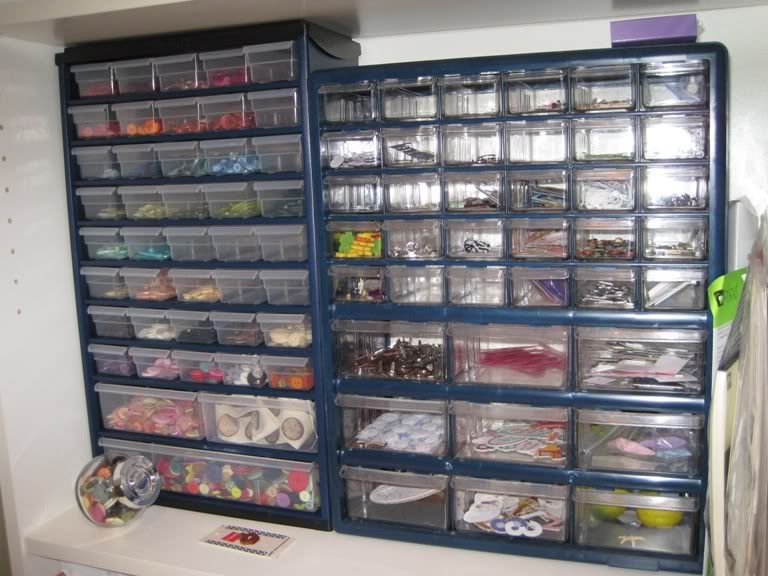 Under those is some bins for dies, embossing folders, misc stamps and cuttlebug mats.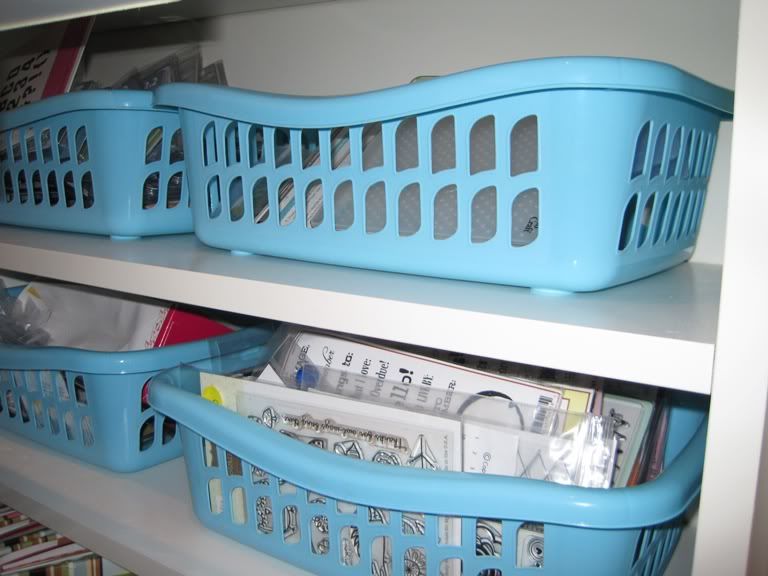 Then there is my stamp storage, love this method. When I am working on Christmas cards it is easy to pull all the Christmas sets and bring them to my desk. That is also my fabric mat and ruler hanging on the wall. That big black thing is a speaker my husband mounted to my shelf and thought I wouldn't notice.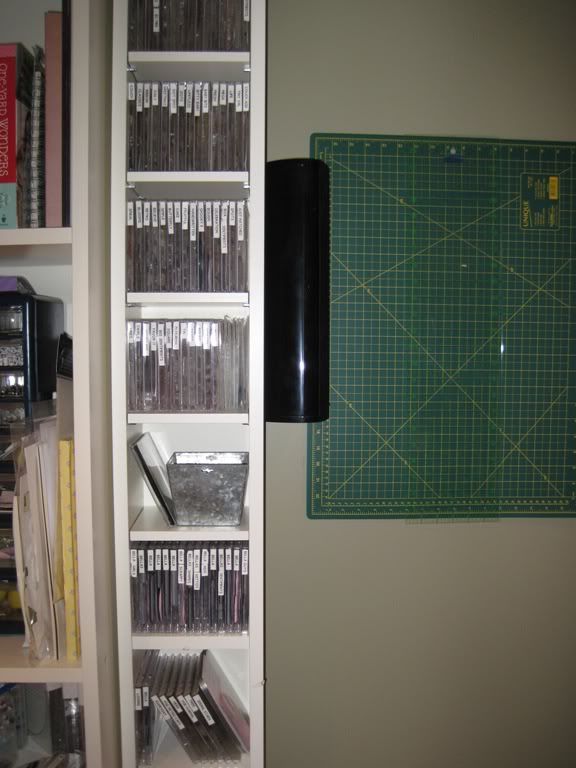 Now there is a lot of storage under my counters at the back like fabric, alpha letters, etc but it is not to my liking yet so can't show that. However also under there is my paper storage.
I have 2 of these cropper hopper paper carts... I highly recommend! I sort by manufacturer because I need to know who made things on a project.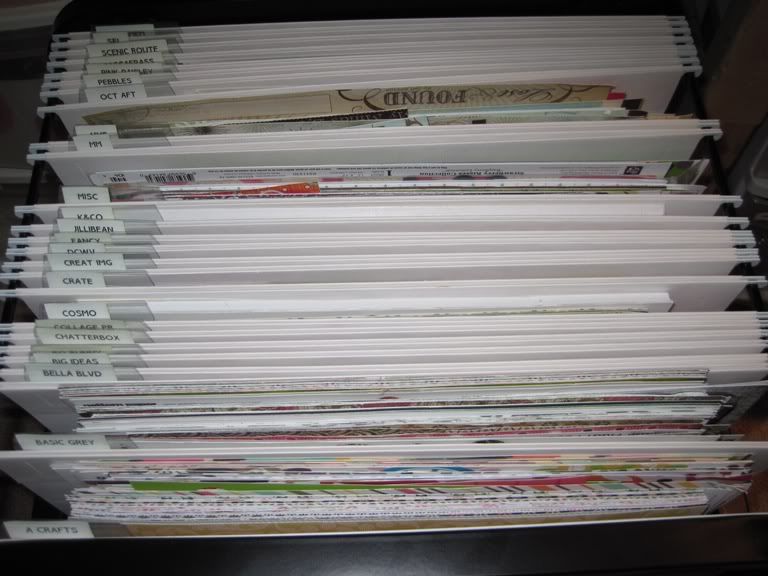 This is my small paper pad storage... I use the larger envelopes, seal them and the cut open the long side. It keeps the pad nicely and any little pieces after I cut!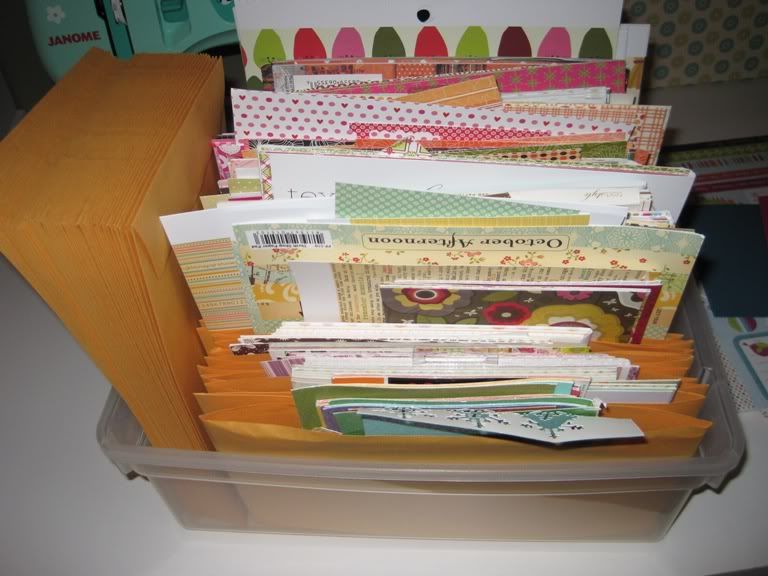 In process is my nestabilities storage, I had them in cd cases with magnets but I moved them to rings and they are going on a cork board, that my hubby has not hung yet! :)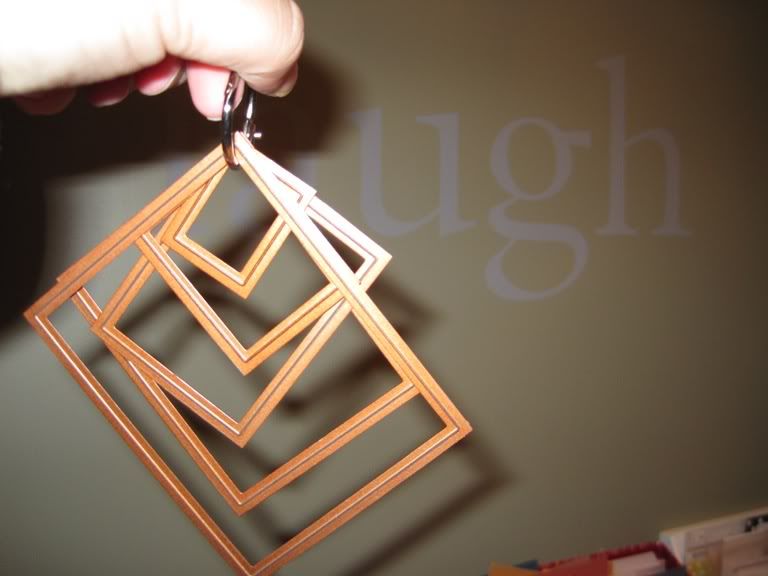 Now my desk is my favorite! It is held up by four of these cubes on each side which hold on the important stuff... adhesive, stamp blocks, tools, felt, twine, glitter, ink, punches, rubons, small alpha letters, chipboard.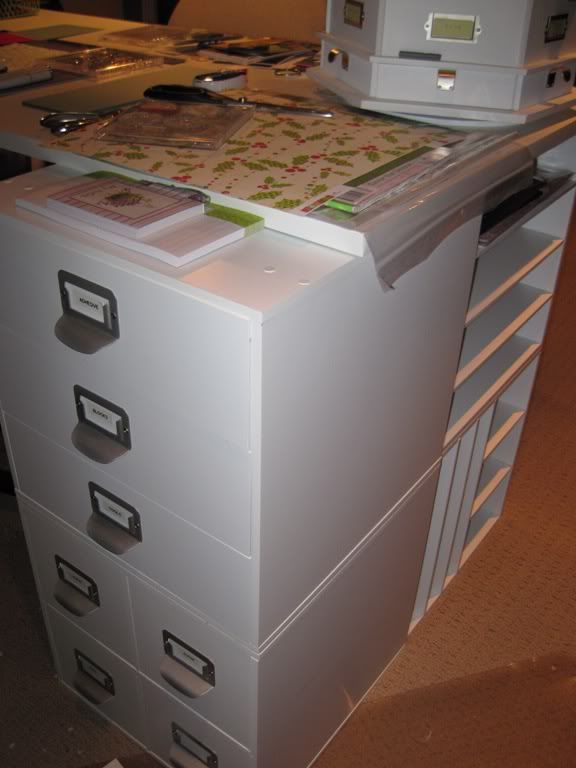 On top is my clip it up! LOVE! A bin for scraps and my utencil storage!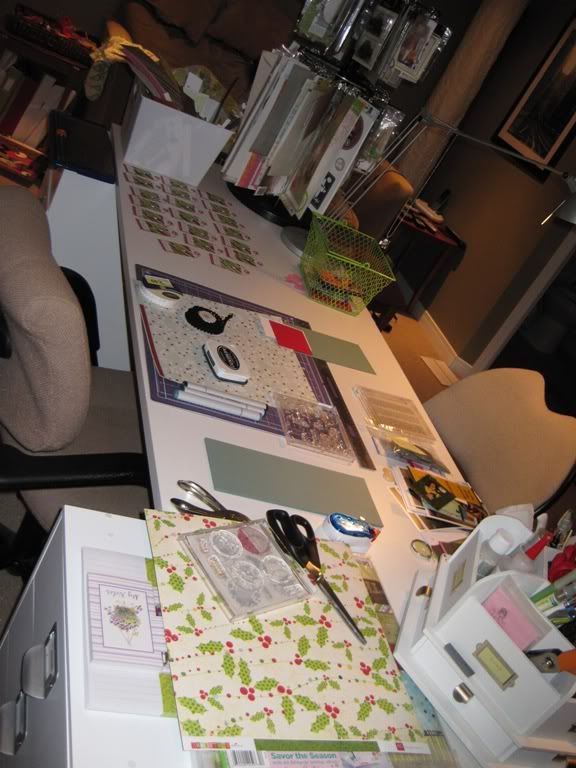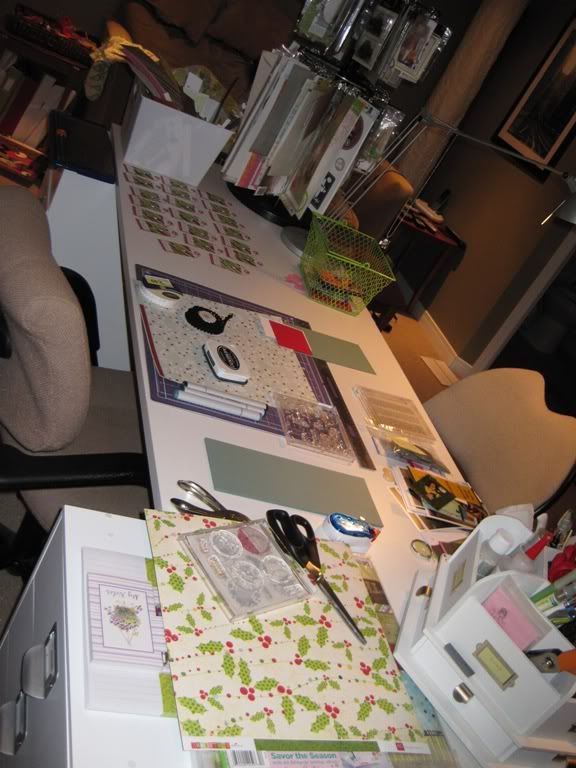 A lot of the time I have my laptop there as well cause I have folders with all my supplies on it, slice images, cricut images, stamp set images... it makes it easier to find what I am looking for.
I am currently sewing a little shade for the window and I have purchased a chandelier but that was just before the baby came so I haven't got that up yet!
I also have endless TV, Movies and music... oh and a never ending chocolate and candy supply. I love it!