My new friend
Joy
did this on her blog and they are so different then any other questions I have seen so I thought why not...
1. What was the last thing you put in your mouth?

Cinnamon Heart(s)

2. Where was your profile picture taken?

At a bar in Cape Breton. (Actually just realized I have a different profile pic then I thought... this one was taken in a Vicki Boutin class)


3. Can you play Guitar Hero?

Yes but I don't.


4. Name someone who made you laugh today. What was it about?

Abby who in the excersaucer shit up to her armpits. Good thing it was Bob's turn to change her!


5. How late did you stay up last night and why?

Midnight... sewing with girlfriends!


6. If you could move somewhere else where would you and why?
Back to Cape Breton to be close to my parents!


7. Ever been kissed under fireworks?

For sure!

8. Which of your friends lives closest to you?

My bestie Regs lives across the street, can't beat that!
9. Do you believe ex's can be friends? With benefits?
Gross no...

10. Do you like Dr. Pepper?

Gross no...
11. When was the last time you cried really hard? Really hard as opposed to just sniveling?
I have a four month old baby... it is a daily occurance!


12. Who took your profile picture?

No idea!
13. Who was the last person you took a picture of?

Jack & Abby ( my kidlets)


14. Was yesterday better than today? Why?

Yes, sewing and chai latte... today cleaning!
15. Can you live a day without TV?

Yup but I wouldn't!

16. Are you upset about anything now?

Yup

17. Do you think relationships are ever really worth it?

Absolutely, I wouldn't trade mine for the world!
18. Are you a bad influence?
Maybay (ps I am aware this is spelled incorrectly... sound it out)


19. Night out or night in?

Night in...


20. What items could you not go without during the day?

Water, computer... clearly food!


21. Who was the last person you visited in the hospital?

Well I was in having a baby a few months ago does that count. I was there for less than 12 hours so I think that consitutes as a visit and not a stay!


22. What does the last text message in your inbox say?

Can't wait to see you... to my gf Avril!

23. How do you feel about your life right now?

Mer...
24. Do you hate anyone?

Hates a strong word... dislike... you betcha!

25. If we were to look in your Facebook inbox, what would we find?

Emails from friends and relatives.

26. Say you were given a drug test right now, would you pass?

Yuppers

27. Has anyone ever called you perfect before?
Definitely not!


28. What song is stuck in your head?

Raise Your Glass... Pink

29. Someone knocks on your window at 2 a.m., whom do you want it to be?

Publishers clearing house.
30. Do you (or did you) want to have grandkids before you're 50?

After doing some quick math, me at 50 puts Jack at 20... NOPE!

31. Tell us your Saturday night.

I am doing this quiz... what does that tell you. lol
I actually just made a card and started cutting a new sewing project pattern.
32. Do you think too much or too little?

Too much, especially when I am nursing!
33. Do you smile a lot?

I try to but I prefer to try to make others smile!

I made 2 coffee cozies for 2 special ladies in my life last night, a pillow for Abby's nursery and a camera case for my little point and shoot!
Here is some of my new fabric... delish.
I forsee a dress in Abby's future.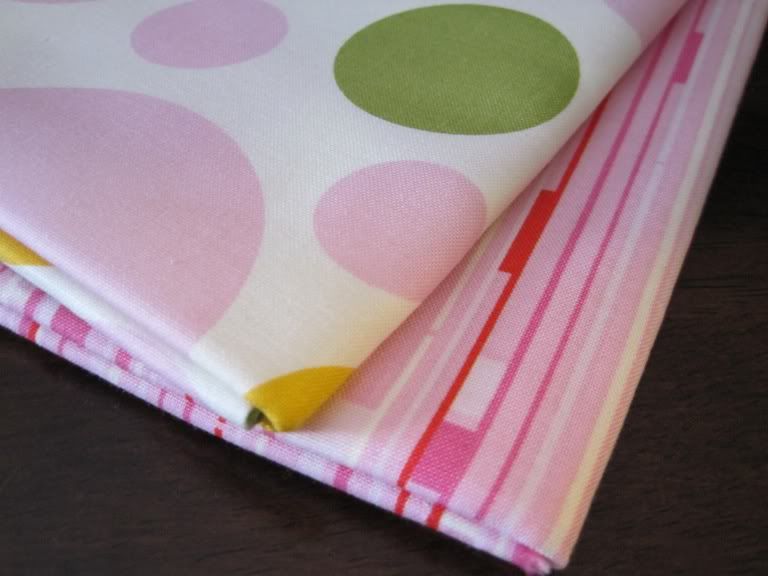 Thinking about changing my bedroom colors to somthing like this....